THE LEGENDARY LEONARD KWAN
THE COMPLETE EARLY RECORDINGS
One of Slack Key Guitar's Most Influential Talents!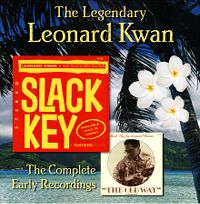 To Buy physical album - Click the "Add To Cart" button

U.S. Delivery ONLY




Slack key – music that comes from the heart and soul. Produced by George Winston, this is the second in a series of re-issues that slack key enthusiasts from around the world have been waiting for! Leonard Kwan was one of the three most influential slack key guitarists in history. With these early landmark recordings, Leonard Kwan was firmly established as one of slack key's most distinctive and influential talents in the history of slack key guitar.

This first CD reissue of the late Leonard Kwan's historic Tradewinds recordings marks an important event for all fans of slack key. Leonard's unique and beautiful style is lovingly represented on these 28 legendary tracks recorded from 1957-1974. This CD includes his
debut recording, plus all of the masterful Tradewinds tracks with Leonard as a leader, plus two songs featuring him as a sideman. His classic 1960 album SLACK KEY (fondly known as the "Red Album"), and a part of this reissue, was the first ever all-instrumental album
of slack key guitar. It influenced and inspired everyone who plays slack key and
continues to be the most significant slack key guitar album in history.
Collectors & slack key enthusiasts are jumping for joy!
=
Sheet Music for Opihi Moemoe

ONE OF SLACK KEY'S MOST DISTINCTIVE
& INFLUENTIAL TALENTS.